Exterior & Garden
Whether you are looking for products for practical use or purley decorative, I am always designing and creating exciting new products for your garden.
When exterior iron work is crafted over the anvil it is coated with clear beeswax covering to initially seal the material. Once cool, I then apply a tripple layer of hard wearing clear coat laquor which protects the underlying matal against the elements.

» Click here to view postage costs.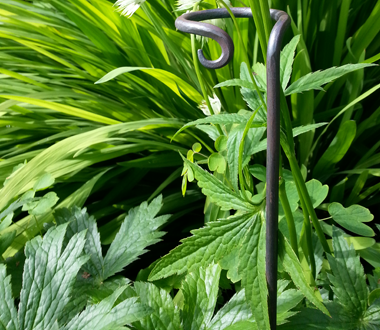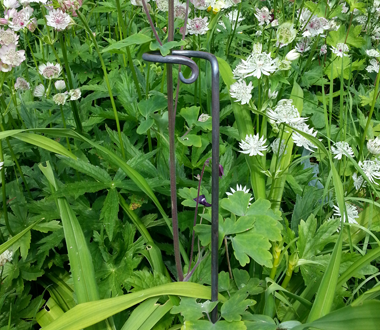 Small Plant Supports
Price: £24.00
Made from 6 mm Solid steel bar these 'push in the ground' plant supports have been crafted with care over the anvil and are designed to accommodate stems to help to keep your plants growing strong and upright. The unique forge work scroll can be admired through the rustic beeswax finish and can be joined to the main body of the bar with twine if necessary.

pack of 5

---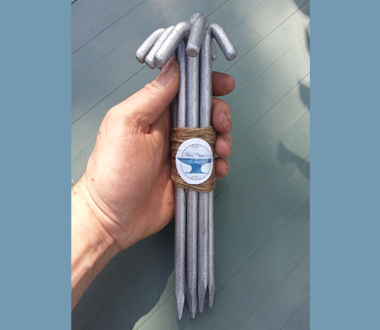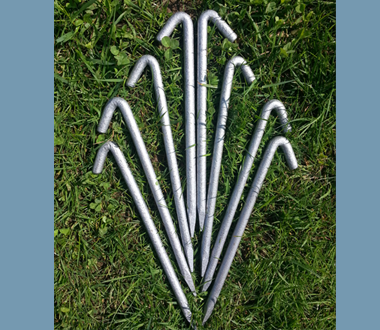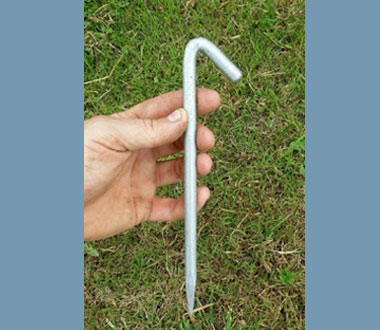 Heavy Duty Tent Pegs
Price: £20.00
Say 'Goodbye' to cheap factory produced pegs which bend at the sight of soil! These tent pegs have been designed to last a life time with a strong head for hitting and a hand forged tip to drive into the firmest of ground conditions. They can be used for tents, gazebos, and guide ropes.

Pack of 8
Made from 10mm Solid steel bar
9 inches long
Protective hard wearing silver finish

---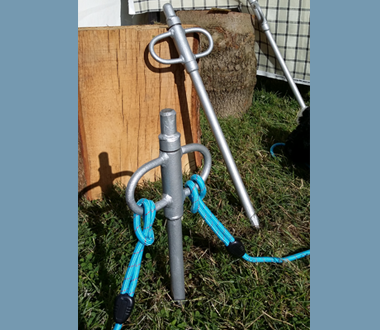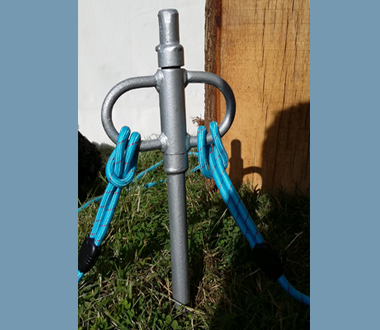 Heavy Duty Dog Tether with Rotating Tie Rings
Price: £55.00
This dog tether allows you to tie one or two dogs too whilst your camping. It has a unique spinning centre bar which allows the lead to spin if your dog does move around to prevent your dog from getting tangled up. These are extremely heavy duty and are great for the larger breed of dog.

Made from 20mm solid steel bar
Length: 19 inches
Hand forged point
Specious rotating tie rings
Finished in hard wearing silver

---